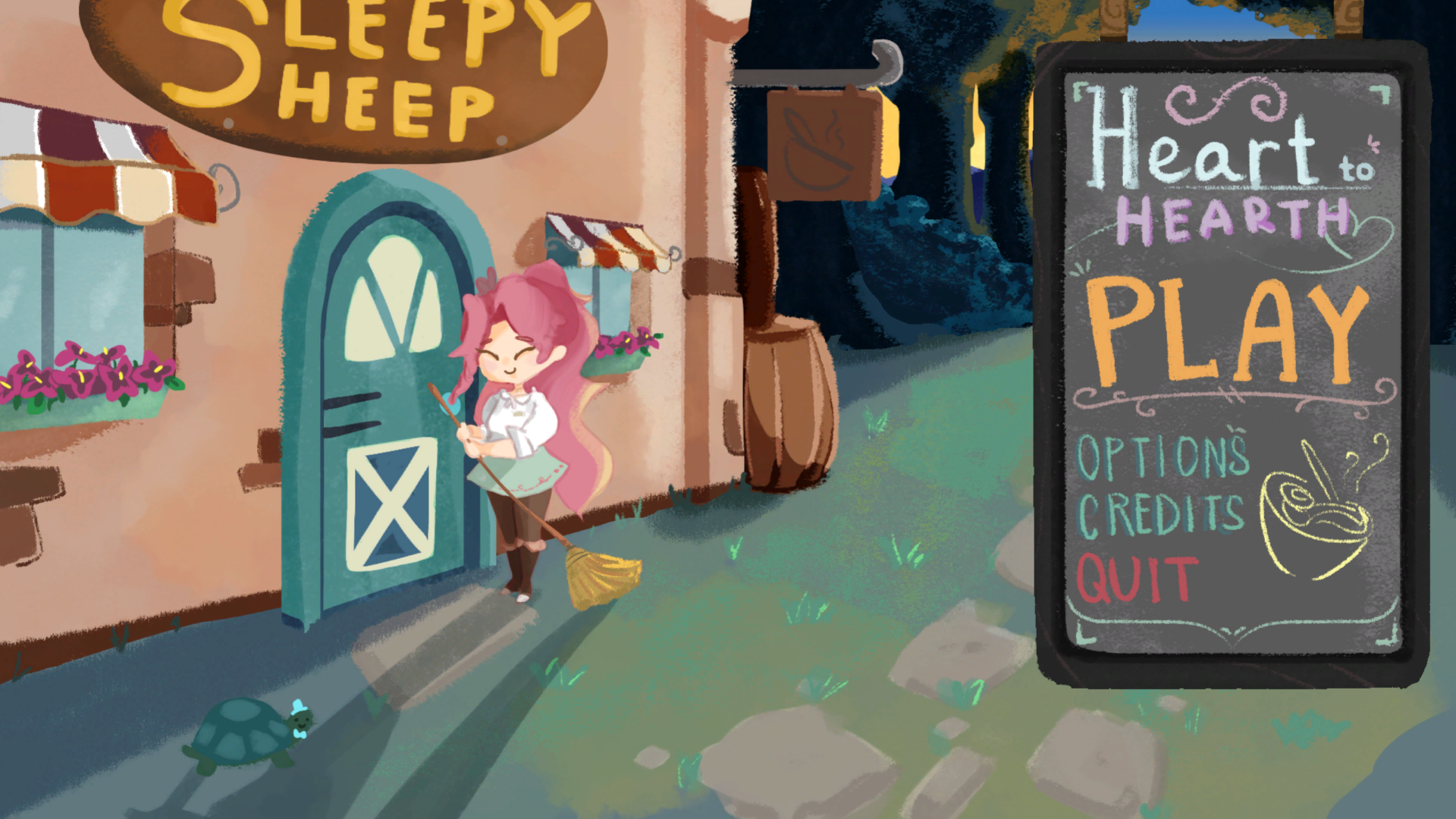 Heart to Hearth
A downloadable game for Windows and macOS
Game Description
This is a game about soup. If you like soup, this is the game for you. Oh and cute/handsome/sexy/deviously good-looking fantasy customers if you're into that sort of thing.
My producer tells me I have to write an actual description so;
Heart to Hearth is a soup-based dating sim where your hand-crafted soups are the key to your customers' hearts.
This is a demo/proof of concept we made to gain experience. We appreciate that you're giving it a look-see~
Background/Lore
Cecilia is a former adventurer, current tavern owner/soup connoisseur. She's been to the corners of the world, done a lot of quests, and gotten her fair share of recipes along the way. Join her on her restaurant, The Sleepy Sheep's grand reopening as she puts her new soup know-how to the test!
" The gentle glow of the fireplace, the warmth of the bowl of food against your hands, and the pleasure of stuffing your face full of delicious food after a long adventure; there aren't a lot of experiences in this world that can compare. "

" You can always count on the Sleepy Sheep for all your soupy soup needs. "
Features
Cookbook-reading action!
Pore over Cecilia's recipe book and find the food item that you think will best sate your customer's appetite!
Or go wild!
Do your own thing! Soups are your canvas, and you're the artist.
Multiple visual novel paths
Based on customer satisfaction, you might be able to serve and swerve your way into interesting tavern talks! Or not! Good luck!
Pulitzer Prize Worthy Dialog
Our writing is overflowing with charm. Probably. We know you can't disprove it. This bullet point has been sponsored by the No Thoughts Gaming Writer Gang.
Heartwarming art style
Actual soup can warm the body and heal the soul. You can't taste a game, but we can do the next best thing.

Playable in French and English
Thanks to our lovely translators; Orlane and his team, you can now switch between English and French in the main menu!
About Us
Hey Everyone, thanks for playing our first game! We're No Thoughts Gaming and we're a group of friends who are passionate (and in this case, soup-obsessed) video game enjoyers. We're making video games in our spare time to further gain those sweet game development exp points. We hope you look forward to our future projects!

Credits
Producer and Writer
Phuc Nguyen ( portfolio )
Writers
David Nguyen ( portfolio )
Bryant Chau ( gmail )
Programmers
Emmanuel Butor ( github )
Kaizena Ma ( portfolio )
Artists
Holly Cheng ( twitter )
Cindy Hoang ( art station )

Music & Sound Designer
Levina Umali ( portfolio )
| | |
| --- | --- |
| Status | Prototype |
| Platforms | Windows, macOS |
| Rating | |
| Authors | No Thoughts Gaming, Emman-B, HotPotMage, Asterranaut, David-N, mkaizena, Cinderquil, ChauKami |
| Genre | Visual Novel |
| Tags | Casual, Dating Sim, Female Protagonist, LGBT, Multiple Endings, Point & Click, Romance, Short, Singleplayer |
| Average session | A few minutes |
| Languages | English |
| Inputs | Mouse |
Install instructions
Ya download it.
Ya open it.
Ya play it!
Make soup~